YAMATO BLOG


YAMATO News Letter
社内教育用キット(メカトロニクス、シーケンサー学習)
Internal Educational Kit (Mechatronics, Sequencer Learning)
 写真はシーケンサープログラム用の社内教育機器。
 和コーポレーションは、開発~設計~製作してしまう会社なので、こういう教育機器も自社で作ってしまいます。
 真ん中の緑色の線は、コンベアのベルトと仮定。銀色の20㎜角の金属の「ワーク」が左右にステッピングモーター駆動で動き、左右のエッジに光反射型のセンサーによって停めます。
 左右の白い四角い箱はマイクロSWを使ったリミットセンサー。反射型センサーが感知出来ず止まらなかった時のフェールセーフ機能です。(マイクロSWが押されて緊急停止)
セレクターSW、ボタン、ブザーもあり、線材を端子で繋いだり、シーケンサーのプログラムを組み方を学習します。
 簡単な機器ですが、メカトロの基礎が学べ、多くの装置や機器は大きくなっても、複雑になっても基本は同じで、動き、感知、時間差、次の動作への選択と組み合わせて動いているので基本を学ぶ事が大事です。「こんな装置を、丸っと作って欲しい」「今保有している装置を改良、改善したい」「治具だけでもお願いしたい」等、まずはお声掛けを頂ければ、ご協力させて頂きます。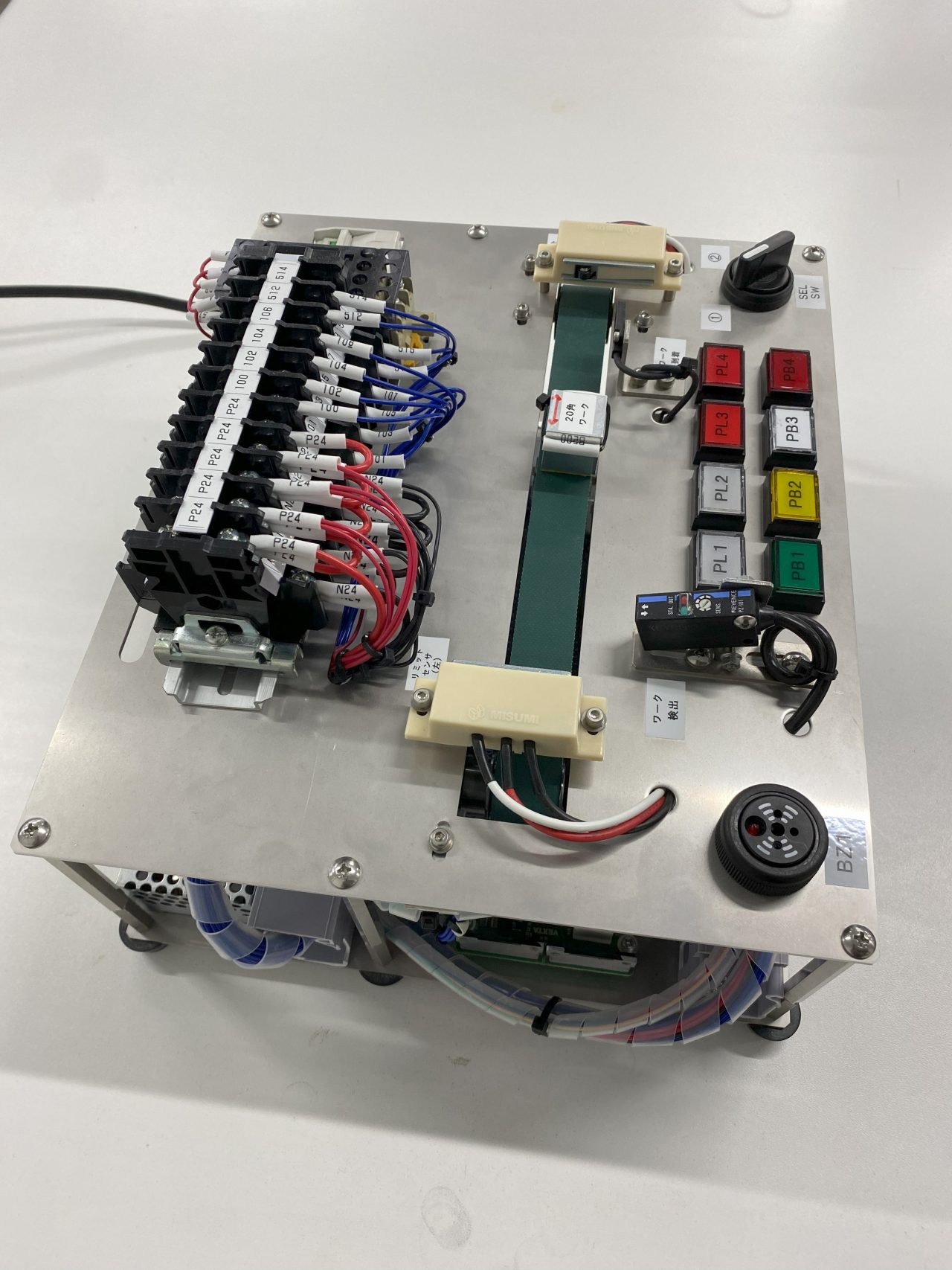 The photo shows in-house training equipment for sequencer programs.
Since YAMATO Corporation is a company that develops, designs, and manufactures, we also make this kind of educational equipment in-house.
The green line in the middle is the conveyor belt. The silver 20mm square metal workpiece is driven left and right by "stepper motor" and is stopped at the edges by light-reflective sensors.
The white square boxes on the left and right are limit sensors that use micro switches. These serve as a fail-safe feature in case the reflective sensors cannot detect and stop the workpiece (the micro switch is pressed for emergency stop).
There are also selector switches, buttons, and a buzzer. They are used to learn how to connect wires to terminals and how to create sequencer programs.
It is a simple equipment, but it allows one to learn the fundamentals of mechatronics. Many devices and equipment, regardless of their size or complexity, are based on the same principles: motion, detection, time delay, and selection for the next operation. Therefore, it is important to learn the basics. Whether you want us to create a complete device like this one, improve and enhance your existing equipment, or just provide fixtures, please feel free to contact us, and we will be happy to assist you."